Catering Penang DotCom catered for an event in Kulim, Kedah. Factory buffet catering.  Halal. It was a very imp0rtant catering event with VIPs.  Other than that, the factory was having its opening ceremony.  Besides, the event organizer was quite selective of the type of food to be catered.
Besides, as usual we took care and placed importance in ensuring that everything went smoothly in terms of the food catering.
Other than that, we catered for the morning break session and also for the lunch session.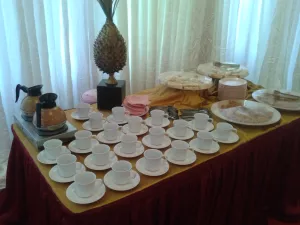 The Menu
Morning light snacks
Hot Nescafe
Hot Tea
Ham Sandwiches
Samosas
Lunch
Tomato Rice
Vegetable Kurma
Dry Lamb Curry ( Mutton Varuval)
Chicken Masala
Fish Cutlets
Steamed Sliced Carrots
Seafood Dumpling
Watermelon slices
Honeydew slices
Lime Cordial